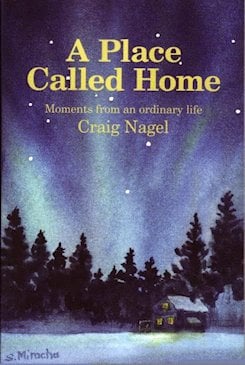 Through the years Craig Nagel's observations of the world around him­­ – sometimes witty, sometimes philosophical, always fresh and unique – ­­have earned him a loyal readership.
Join him as he contemplates the mystery of the night sky on a midnight walk at 30 below zero, stares eyeball to eyeball in the chicken coop with an intruding Great Horned Owl, paddles his way through an autumn marsh as he and his wife harvest wild rice, and reflects upon the mystical resurrection of early-spring frogs, who days before were entombed in frozen mud.
His insights offer the reader a walk down a road less traveled, to moments filled with peace and quiet wonder.  Enjoy the magic of A Place Called Home.